Dow plummets more than 500 points as volatility returns to stock market
The
Dow
fell more than 530 points Friday, a drop of around 1.6%. It was a broad-based selloff, with all 30 Dow stocks finishing in the red.
Intel
(INTC)
,
Goldman Sachs
(GS)
and
Walgreens
(WBA)
were among the biggest decliners.
The Dow is now on a five-day losing streak, falling nearly 3.5% this week. That's the worst weekly pullback since late January.
Bullard, who does not have a say on the Fed's policy committee this year but will have a vote in 2022, also
said in the interview
that the Fed is also starting to discuss the idea of tapering, or cutting back, its bond purchases.
"There is more future volatility ahead," said Bruce Monrad, portfolio manager of Northeast Investors Trust. "It should increase as the Fed starts to think about raising rates and once it starts tapering."
These market gyrations could become more routine, which may alarm investors who have gotten used to more calm on Wall Street.
"Volatility has been very low because the market overall supported by improving earnings," said Marco Pirondini, head of equity at Amundi US. "But there is always some speculation in other corners of the market."
The VIX, which many investors refer to as Wall Street's "fear gauge," is now hovering around the pre-pandemic levels of February 2020. It's been steadily declining since peaking in March of last year. The VIX has fallen nearly 15% in 2021.
But the VIX spiked about 10% Friday, and some experts warn that the summer and latter half of 2021 could be a bit bumpier than the first six months of the year.
Schuringa said he's worried about the "speculative excess" in the meme stocks as well as in the tech sector and thinks that a broader market correction could be on the horizon.
It's also clear, as Friday's market pullback illustrates, that investors are hyperfocused on every little thing the Fed says about interest rates, tapering, inflation and the economy.
"I'm concerned about volatility in the second half of year. There is less room for error," said Daniela Mardarovici, co-head of US multisector fixed income at Macquarie Investment Management. "Even a mild surprise from the Fed could create an aftershock."
"We could see some hiccups ahead. But it's still pretty calm," said Bill Sterling, global strategist with GW&K Investment Management.
Investors may also be overreacting to every utterance by Fed members. After all, Bullard is just one person, who doesn't even have a vote until next year. The remaining Fed members still don't think a rate hike is imminent.
"Big changes from the Fed are likely still years away. This volatility might be transitory but it will rear its head every now and then because of more uncertainty," said Marvin Loh, senior global macro strategist with State Street Global Markets.
Why chipmaker Nvidia could be next big tech to join the Dow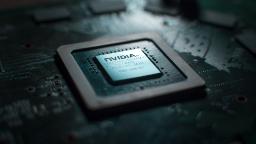 There's a strong case to be made for
Nvidia
(NVDA)
joining the Dow Jones Industrial Average, the most famous of market barometers. In fact, one could argue that Nvidia might be a better fit than current chip king
Intel
(INTC)
or stodgy tech giant
IBM
(IBM)
.
To be sure, the chip maker's annual sales still pale in comparison to Intel or IBM, which are both expected to generate more than $70 billion in revenue this year. But Nvidia's revenue forecast of about $25 billion for this fiscal year isn't too shabby.
It's also higher than the sales expectations for Dow components
Visa
(V)
and
McDonald's
(MCD)
, and on par with the revenue estimates for software giant
Salesforce
(CRM)
, which was
added to the Dow
last year.
Adding Nvidia could give the Dow more exposure to the lucrative industries of gaming and cryptocurrencies, as Nvidia's graphics processing chips are a big part of high-end PCs used by gamers as well as for
cryptocurrency mining rigs.
There's another big reason why there's been more chatter lately about Nvidia potentially joining the Dow. (Investing sites
Motley Fool
and
Seeking Alpha
have both speculated about the possibility.)
Stock split could set up Nvidia for Dow inclusion
Nvidia, until recently, would have been too expensive for the Dow, which weights the 30 companies it lists by stock price.
Shares of Nvidia had been trading north of $750 as of a few weeks ago. So putting it in the Dow at that price would have made it by far the biggest member of the index.
UnitedHealth
(UNH)
, with a stock price of around $415, is the current top stock in the Dow, accounting for about 8% of the average.
But Nvidia recently split its stock, which cut its share price by a quarter. Stocks now trade for around $190. There are a dozen Dow components that have a stock price higher than that.
And the fact that tech titans
Amazon
(AMZN)
and Google owner
Alphabet
(GOOGL)
, which each have shares prices in the quadruple digits, have not split their stock recently is arguably the main reason why neither company is in the Dow — despite having market valuations approaching $2 trillion.
Facebook
(FB)
is another possible future Dow addition, too, given that it is now worth more than $1 trillion.
The social media giant might need to split its stock as well though. At a price of nearly $375, Facebook would be the third-largest Dow component if added at current levels, trailing only UnitedHealth and
Goldman Sachs
(GS)
. That's why Nvidia seems like a more logical Dow addition.
Nvidia could also be an attractive option if the company's planned purchase of UK-based mobile chip designer Arm from SoftBank goes through. The
$40 billion purchase
would make Nvidia an even bigger player in the world of tech.
There are questions about whether that deal will pass regulatory muster, as it is being
scrutinized
by several agencies around the globe. There has even been speculation that Arm might pursue an initial public offering instead.
Nvidia was not available for comment. A spokesperson for Arm told CNN Business that the company's CEO, Simon Segars, has
stated to The Telegraph
that there are no plans for an IPO and that the company is focused on closing the Nvidia deal.
A spokeswoman for S&P Dow Jones Indices, which has a committee in charge of making changes to the firms listed on the Dow, had no comment about the possible inclusion of Nvidia or any other changes to the index.
Amazon posted a crypto job. Bitcoin surged 14%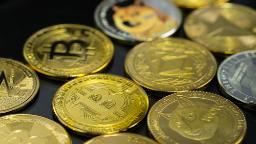 Bitcoin
(XBT)
climbed to a six-week high of nearly $39,043, while ethereum reached $2,363. Dogecoin was last trading at about 22 cents per coin, giving it a $28.8 billion market cap. As of Monday afternoon, both
bitcoin
and dogecoin had soared more than 14% over the past 24 hours, according to Coinbase. And ethereum went up nearly 12% over that period.
Typically, when Amazon is rumored to enter a new market, stocks of
soon-to-be rivals tumble
. But Amazon's job listing had the opposite effect Monday, generating buzz about the tech
company's future involvement
with cryptocurrencies and its potential to further legitimize the nascent digital currency sector.
In
Amazon's
(AMZN)
listing, which was posted Thursday, the company says it is looking for someone with a "deep understanding" of the "cryptocurrency ecosystem and related technologies."
The role would be part of Amazon's payment acceptance and experience team, according to the
job description
, perhaps implying that the e-commerce giant could accept cryptocurrencies as payment in the near future.
"We're inspired by the innovation happening in the cryptocurrency space and are exploring what this could look like on Amazon," a spokesperson for the company told CNN Business. "We believe the future will be built on new technologies that enable modern, fast and inexpensive payments, and hope to bring that future to Amazon customers as soon as possible."
Cryptocurrencies are having a roller coaster year, and
they rallied Monday
, just a few days after Amazon posted the job opening.
The conversation surrounding cryptocurrencies has become more
prominent in corporate America
this year. Although Tesla founder and CEO Elon Musk's tweets have incited whiplash in the crypto space, the company's initial $1.5 billion investment in bitcoin helped legitimize cryptocurrencies as an investment. Musk
recently said
he's invested in bitcoin and wants to "see it succeed." And during earnings conference calls this year, Wall Street analysts have peppered executives at high-profile companies about possibly entering the bitcoin space.
Amazon's stock was up a little more than 1% Monday.
Correction: A previous version of this story incorrectly stated the day that Amazon's job listing was posted.
Shrinkflation is the fad diet no one needs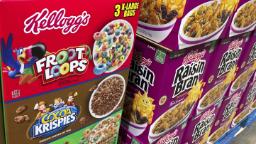 In today's business news: Yes, your cereal boxes are shrinking; a $30 billion insurance merger gets called off; and Philip Morris wants to ban cigarettes in the UK.
Forget intermittent fasting and keto. Shrinkflation is here to help you shed your quarantine weight.
Here's how it works: You don't have to do anything, just keep buying the same groceries and let the food manufacturers do the portion control for you. Because while you'll still be spending the same amount, you'll be getting just a bit less than before.
Shrinkflation, of course, is not a fad diet — it's a sneaky little tactic used by companies when their production costs go up (and the recent inflation surge has done just that). Rather than change the price of a box of Cocoa Puffs, General Mills can simply reduce the number of puffs in the box by an ounce or so. You pay the same price, because of course, and then the company can offset the increase in their expenses.
NUMBER OF THE DAY
$30 billion
TALES FROM CRYPTO
Cryptocurrency buzz has gone from a low hum to a 2021-style cicada swarm. The reason why has less to do with the viability of cryptos as mainstream tender but rather the fact that Amazon is, apparently, paying attention.
WHAT HAPPENED
The role would be part of Amazon's payment acceptance and experience team, according to the job description, perhaps implying Amazon wants to accept cryptocurrencies as payment. That would take the nascent market digital currency sector deeper into mainstream commerce and give it the legitimacy that its advocates say is overdue.
Bitcoin climbed to a six-week high of nearly $39,043. As of Monday afternoon, both bitcoin and dogecoin had soared more than 14% over the previous 24 hours, according to Coinbase. Ethereum went up nearly 12% over that period.
QUOTE OF THE DAY
"With the right measures in place, [Philip Morris] can stop selling cigarettes in the UK in 10 years' time."
— Moira Gilchrist, head of strategic and scientific communications at Philip Morris International
WHAT ELSE IS GOING ON