New Initiative Rewards Artists For Bitcoin Street Art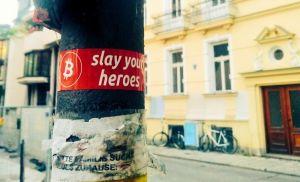 The Bitcoin Awareness Game is the latest initiative to foster increased use of cryptocurrency-related street art worldwide, with artists rewarded with satoshis (sats, smallest units of bitcoin) from sharing their contributions to spreading the crypto message.
The Munich-based collective Ideas Are Like Flames is behind the game, and they have a dedicated account that is used to share the art pieces that have begun to flourish around the world in a bid to promote the cryptocurrency. Artists paint graffiti, make stickers, posters, murals, and also share other forms of artwork.
The Bitcoin Awareness Game encourages crypto aficionados to spread the collective's messages on stickers which are available in 19 designs. They can be purchased or downloaded from the group's website which also includes the initiative's manifesto.
According to the collective,
"Most people haven't heard of Bitcoin and most of those who once did either think it's dead, for criminals, will never work or [ENTER MISCONCEPTION OF YOUR CHOICE]. When these misconceptions come up, there's no Bitcoin spokesperson to refute them. There's only knowledgable Bitcoiners to set the record straight."
Per the manifesto, the group printed the designs and started offering them in their shop at the beginning of June 2020. "In a short period of time," it said, "Bitcoiners from all around the world purchased sticker packs and started to send photos of stickers they applied in public places. Coincidentally, at the same time the Twitter account Bitcoin Street Art started to tweet out crowdsourced photos of Bitcoin themed graffiti, stencils and stickers and we submitted some photos of our designs that had been sent to us."
In the beginning of the initiative, the group pledged to pay out 615 sats (USD 0.066) from its own assets for every photo of a Bitcoin sticker up to a total of 615,000 sats (USD 66). However, the initiative's popularity pushed the Bitcoin Awareness Game to boost the available bounty.
According to the website, more than 1.4 million satoshis have been awarded to contributors from various countries that include the US, Germany, New Zealand, and Romania, among others.
Participants in the initiative can secure their rewards in satoshis through microlancer.io, or BTCStreetArt's Telegram channel.
While many of the featured messages are designed to propagate bitcoin in English, numerous street artists opt for transmitting their crypto messages in languages such as German, Spanish and Portuguese, among others, often directing the ire of their criticism against the world's financial establishment. The initiative now extends well beyond the Western hemisphere, with crypto artwork blooming in Lahore in Pakistan, and in Russia's Sankt Petersburg.
Check out the collective's video:
Luxembourg Start-Up To Ramp Up Music Rights Platform Next Year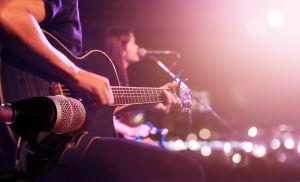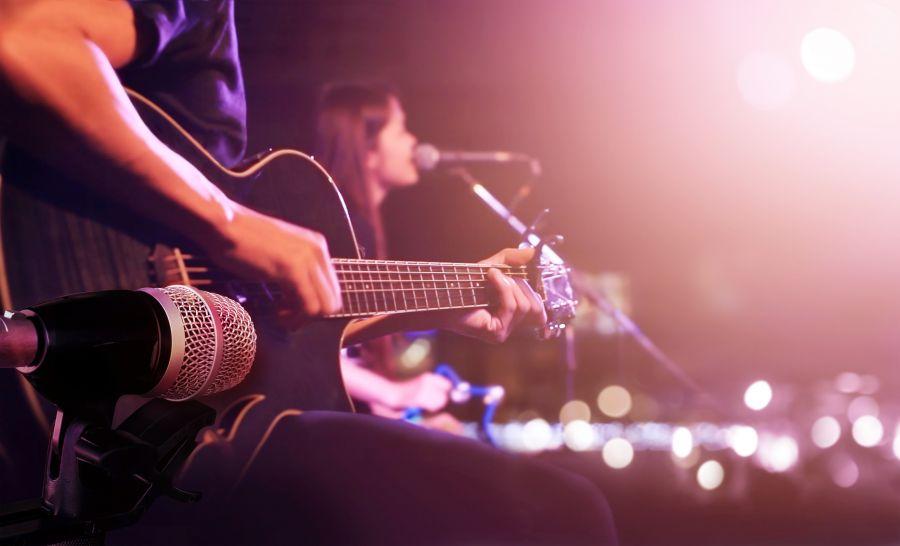 Luxembourg-based start-up ANote Music has created a marketplace that allows its users to purchase and sell music rights, using blockchain technology, raising EUR 505,000 (USD 612,000) last year from its first investment round, and attracting EUR 385,000 (USD 467,000) from investors. The firm is not ruling out issuing its own cryptoasset in the future, although no binding decisions have been made yet.
It "is important to establish that relationship of trust with those who are going to use [our platform]. Blockchain has been playing an important role for us in this regard," Niels Hoorelbeke, Marketing and Business Development Strategist at ANote Music, told Cryptonews.com.
Early 2020 brought the start-up "the announcement of the closing of our first investment round of EUR 505,000," he said. Following its July launch, the platform made three music catalogues available to investors at auctions, and a further two in late 2020.
"All five catalogs successfully completed raising the auction target and are together good for a totality of over EUR 385,000 committed by investors," according to Hoorelbeke, who added that EUR 12,000 were distributed back to investors by the end of 2020.
Hoorelbeke says the team "have seen an increase in people searching for alternative investment solutions," owing to which "2021 will be the year in which ANote Music will look to expand services and grow strong." They'll also "be looking to bringing more investment opportunities and music catalogues to our investor community."
Other initiatives in the future could be related to cryptoassets. Regarding ANote Music's potential use of its own native cryptoasset, Hoorelbeke said the "way our system and services are designed, it was not per se necessary to tokenize our assets or develop an own crypto, so to make music investments easy accessible to everyone, we opted to work without an own native crypto asset," he said, and added:
"It's not an idea we exclude for the future, but currently not in our development plans."
The past months have brought an increased use of blockchain technology in music rights distribution. In a similar development, Utopia Genesis Foundation unveiled plans this month to bring more than USD 1 billion worth of tokenized music rights to a polkadot (DOT) parathread in 2021, moving away from ethereum (ETH). The move is designed to allow the entity to offer its ecosystem applications by using the full economic security of Polkadot's validator set, as they said.
ANote Music says investments through its platform can generate an average expected yield of 7.91%. A 4% distribution fee is withheld for shares acquired in the primary market, and 8% for shares traded on the secondary market. The distribution fee is capped at 0.5% of users' initial invested amounts.
Bitcoin and Altcoins Turn Red As Bulls Step Back
Bitcoin price started a downside correction below the USD 36,500 and USD 35,500 support levels. BTC also broke the USD 35,000 level and tested USD 34,000. It is currently (13:00 UTC) recovering, but the bulls could struggle near USD 35,500.
Similarly, there was a bearish reaction in most major altcoins, including ethereum, EOS, XRP, XLM, LINK, BNB, OMG, NEO, TRX, bitcoin cash, DOT, litecoin and ADA. ETH/USD declined over USD 100 and it even tested the USD 1,250 support zone. XRP/USD is down 5%, but it is still well above the USD 0.265 support zone.
Total market capitalization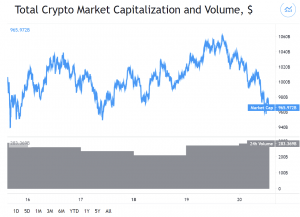 Bitcoin price
There was a steady decline in bitcoin price after it broke the USD 36,000 level. BTC declined over USD 1,500 and the price even tested the USD 34,000 support zone. A base seems to be forming above USD 34,000 and the price is recovering. An initial resistance is near the USD 35,000 level. The first major resistance is near the USD 35,500 level.
A clear break above USD 35,500 could start a decent increase. On the downside, the USD 34,200 and USD 34,000 levels are important supports.
Ethereum price
Ethereum price declined sharply after it failed to stay above USD 1,350. ETH even broke the USD 1,300 level and tested the USD 1,250 support. The bulls are defending the USD 1,250 and USD 1,235 levels. If there is a fresh increase, the USD 1,320 and USD 1,350 levels could act as a strong resistance.
Conversely, a downside break below the USD 1,250 and USD 1,235 support levels may possibly spark a sharp decline. The next major support is near the USD 1,150 level.
Bitcoin cash, litecoin and XRP price
Bitcoin cash price failed to stay above the USD 500 support level and it even spiked below USD 485. BCH tested the USD 470 level and it is currently recovering. On the upside, the previous support at USD 495 and USD 500 are likely to act major hurdles. A close above USD 500 could open the doors for a fresh increase.
Litecoin (LTC) is down over 10% and it is now trading well below the USD 150 support. LTC is testing the USD 140 support, below which it could even decline towards the USD 132 and USD 130 levels. On the upside, the bulls are likely to face selling interest near USD 150 once again. The next key resistance is near the USD 165 level.
XRP price is stuck in a crucial range above the USD 0.265 and USD 0.255 support levels. There were a couple of attempts to settle above USD 0.300 and USD 0.312, but the bulls failed to retain strength. The price is declining, but the USD 0.265 support will most likely act as a strong buy zone.
Other altcoins market today
In the past few hours, many altcoins declined over 10%, including UMA, AMPL, RSR, BAND, SOL, YFI, KSM, HEDG, UNI, DASH, IOST, ATOM, SUSHI, XTZ, LINK, and COMP. Conversely, HBAR remained in a positive zone after a spike above USD 0.10.
To sum up, bitcoin price is declining and showing bearish signs below USD 35,500. If BTC fails to stay above USD 34,000, there is a risk of more downsides towards USD 32,000.
_____
Find the best price to buy/sell cryptocurrency: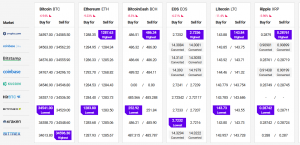 Bitcoin Less Risky Than Tesla, Ethereum at USD 10,500 + More News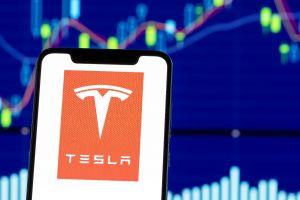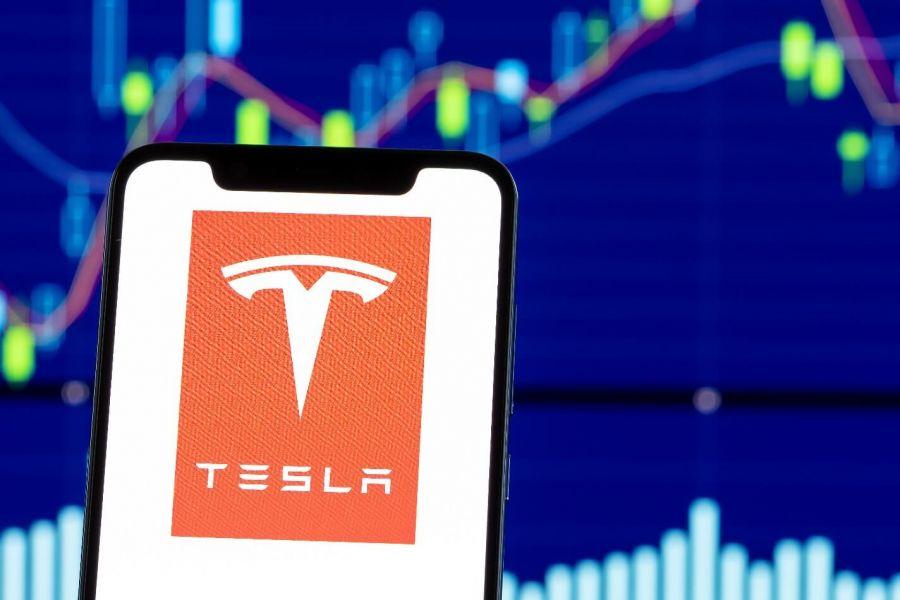 Get your daily, bite-sized digest of cryptoasset and blockchain-related news – investigating the stories flying under the radar of today's crypto news.
Bitcoin news
While the most popular cryptocurrency, bitcoin (BTC), is considered to be almost in the "extreme bubble" territory, more surveyed market professionals are in favor of BTC than electric car manufacturer Tesla when forecasting how both assets might perform over the next 12 months. 56% of 627 respondents surveyed by Deutsche Bank last week claimed that BTC price more likely to halve in a year, and 25% said it's more likely to double, according to a report by Marketwatch. Meanwhile, 62% of them said that the price of Tesla's stock is more likely to halve, and 18% said it's more likely to double. Around 20% don't know what to expect in both of these cases.
Ethereum news
The price of ethereum (ETH) could skyrocket to USD 10,500 from the current USD 1,263 as this is "the best risk/reward investment play in crypto," according to a strategist at Fundstrat Global Advisors, David Grider, as reported by Bloomberg. Risks include setbacks for the network upgrade or a crypto bear market, he added, without specifying when ETH might climb above USD 10K.
Crypto adoption news
The head of crypto trading platform Bitpanda's Spanish operations, Alejandro Zala, has claimed that at least 5 million Spaniards are already trading BTC and other cryptoassets – approximately 10% of the country's 50 million population. Per El Economista, Zala claimed that the level of crypto adoption among Spaniards was "one of the highest in Europe." Zala added that in general Spanish crypto enthusiasts "invest more that citizens in countries with greater purchasing power, such as Germany, Switzerland and the United Kingdom."
Asia accounts for almost half of global crypto trading, found a report by crypto research firm Messari research analyst Mira Christanto. "With Asia accounting for 60% of the world population, infrastructure companies across the world are interested in tapping the growing market," the report said. China, Japan, Korea, Hong Kong, and Singapore are market leaders with deep pools of liquidity, while East Asia (mostly China) is dominated by larger trades with 90% of all volumes above USD 10,000. Of the top 20 token projects today, more than 40% of the market capitalization is based in Asia, while by the end of 2019, six of the top ten largest crypto firms in the world were located in Asia.
Blockchain news
Jeju Island, South Korea, is set to roll out a blockchain-powered COVID-19 status-checking app, which is now in its pilot testing phase, reported the Hankook Ilbo. The subtropical province, off the coast of the mainland, is a popular destination year-round for both domestic travelers and visitors from overseas – particularly China. And the new platform will allow those fighting the pandemic to access tamper-proof records of individuals' visit history and contacts without requiring stores and eateries to have customers check in to their venues using rival QR code-powered apps.
The Chinese web giant Baidu has filed a new blockchain patent applications, per official records. The summary for the application explains that the patent is for a blockchain-powered data privacy processing system, including associated devices, equipment and a means of storage. The record shows that the original filing was made back in August last year, but won official approval earlier this month. Baidu is China's biggest search engine, and has been keen to expand its Blockchain as a Service (BaaS) offerings in recent months.
Singapore-based Human Protocol has announced its plans to launch a new service on the Solana (SOL) blockchain, with the goal to provide scalable decentralized apps and marketplaces. According to the press release, "the HUMAN Protocol Foundation believes that integrating with Solana has the potential to provide enormous processing capabilities for labor pools and payment settling that can increase efficiency."
Mining news
Provider of Bitcoin mining equipment Canaan will be supplying the Toronto Stock Exchange-listed HIVE Blockchain with 6,400 next-generation A1246 bitcoin miners from its AvalonMiner product line. As announced by HIVE, this will enable the firm to meet its 2021 ASIC capacity goal of 1,000 Petahash per second (PH/s), while its aggregate operating hash rate will increase to an estimated 1,229 Petahashes per second by the end of 2021.
Exchanges news