New Initiative Rewards Artists For Bitcoin Street Art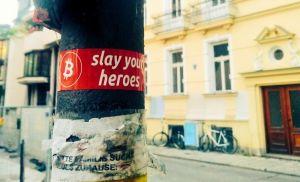 The Bitcoin Awareness Game is the latest initiative to foster increased use of cryptocurrency-related street art worldwide, with artists rewarded with satoshis (sats, smallest units of bitcoin) from sharing their contributions to spreading the crypto message.
The Munich-based collective Ideas Are Like Flames is behind the game, and they have a dedicated account that is used to share the art pieces that have begun to flourish around the world in a bid to promote the cryptocurrency. Artists paint graffiti, make stickers, posters, murals, and also share other forms of artwork.
The Bitcoin Awareness Game encourages crypto aficionados to spread the collective's messages on stickers which are available in 19 designs. They can be purchased or downloaded from the group's website which also includes the initiative's manifesto.
According to the collective,
"Most people haven't heard of Bitcoin and most of those who once did either think it's dead, for criminals, will never work or [ENTER MISCONCEPTION OF YOUR CHOICE]. When these misconceptions come up, there's no Bitcoin spokesperson to refute them. There's only knowledgable Bitcoiners to set the record straight."
Per the manifesto, the group printed the designs and started offering them in their shop at the beginning of June 2020. "In a short period of time," it said, "Bitcoiners from all around the world purchased sticker packs and started to send photos of stickers they applied in public places. Coincidentally, at the same time the Twitter account Bitcoin Street Art started to tweet out crowdsourced photos of Bitcoin themed graffiti, stencils and stickers and we submitted some photos of our designs that had been sent to us."
In the beginning of the initiative, the group pledged to pay out 615 sats (USD 0.066) from its own assets for every photo of a Bitcoin sticker up to a total of 615,000 sats (USD 66). However, the initiative's popularity pushed the Bitcoin Awareness Game to boost the available bounty.
According to the website, more than 1.4 million satoshis have been awarded to contributors from various countries that include the US, Germany, New Zealand, and Romania, among others.
Participants in the initiative can secure their rewards in satoshis through microlancer.io, or BTCStreetArt's Telegram channel.
While many of the featured messages are designed to propagate bitcoin in English, numerous street artists opt for transmitting their crypto messages in languages such as German, Spanish and Portuguese, among others, often directing the ire of their criticism against the world's financial establishment. The initiative now extends well beyond the Western hemisphere, with crypto artwork blooming in Lahore in Pakistan, and in Russia's Sankt Petersburg.
Check out the collective's video:
Bitcoin Decoupling Nearing $12K As Wall Street Tumbled: Crypto Market Watch
Bitcoin finally made a move in the past 24 hours and surged to a new 7-week high of over $11,800. Interestingly, BTC's price increase contrasted with the US stock markets as the three most prominent indexes closed yesterday's trading session with serious losses.
Bitcoin Spikes To $11,820
CryptoPotato reported yesterday that Bitcoin had remained relatively calm in the past several days, despite recent negative news. The popular digital asset exchange OKEx suspended withdrawals after reports that its founder was taken away by the police, and the CME gap left open at $11,100 suggested a possible short-term price drop.
However, the primary cryptocurrency tends to prove people wrong, and that precisely what transpired yesterday. BTC traded around $11,400 but initiated an impressive leg up that resulted in a 3.7% increase to $11,820 (on Binance). This was the highest price level Bitcoin had seen since early September.
The asset has retraced slightly since then and currently hovers around $11,750. Nevertheless, this is still a 2.8% increase on a 24-hour scale.
The technical aspects indicate that the $12,000 – $12,100 area is the next major resistance in BTC's way up.
With the price jump mentioned above, Bitcoin displayed early signs of decoupling from Wall Street. After weeks of resembling the US stock indexes, BTC surged in value, while the S&P 500, the Dow Jones Industrial Average, and the Nasdaq Composite all dropped by over 1.5% in a single day.
Bitcoin Extends Its Market Dominance
Although some alternative coins mimicked Bitcoin's gains, most have remained relatively still. Consequently, the metric comparing BTC's market cap with all altcoins, namely the Bitcoin dominance, has increased by nearly 1% to 59.7% in 24 hours. On a weekly scale, it has expanded by almost 2%.
Ethereum's 1.4% price spike has taken ETH near $380. Ripple (3.1%) is the most impressive gainer in the top 10, and XRP trades close to $0.25.
Bitcoin Cash (0.8%), Chainlink (0.5%), Cardano (1%), and Litecoin (2%) are also in the green from the top ten. In contrast, Binance Coin (-0.2%) and Polkadot (-1%) have decreased slightly.
Dash has surged the most on a 24-hour scale (11.6%) to $74. Nano follows with a 10% pump to $0.9.
On the other hand, Aave (-12%) and ABBC Coin (-10.5%) have lost the most value. AAVE trades below $35, while ABBC hovers around $0.57.
SPECIAL OFFER (Sponsored)
Binance Futures 50 USDT FREE Voucher: Use this link to register & get 10% off fees and 50 USDT when trading 500 USDT (limited offer).
Disclaimer: Information found on CryptoPotato is those of writers quoted. It does not represent the opinions of CryptoPotato on whether to buy, sell, or hold any investments. You are advised to conduct your own research before making any investment decisions. Use provided information at your own risk. See Disclaimer for more information.
Cryptocurrency charts by TradingView.
BitMEX Hastens User Verification After Securing 50+% of Their Trading Volume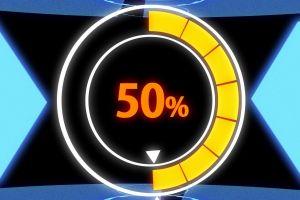 The troubled crypto exchange BitMEX has accelerated its user verification program after securing over 50% of their trading volume in almost two months since the program begun.
"A significant amount of our users representing over 50% of our volume have successfully completed the onboarding process," BitMEX said today, adding that this number gave them "the confidence to bring forward our cut-off date."
Total trading volume on the platform surpassed USD 2bn in the past 24 hours, according to Coinpaprika.com data.
Trading volume on BitMEX: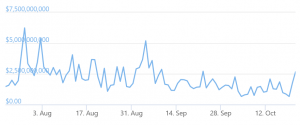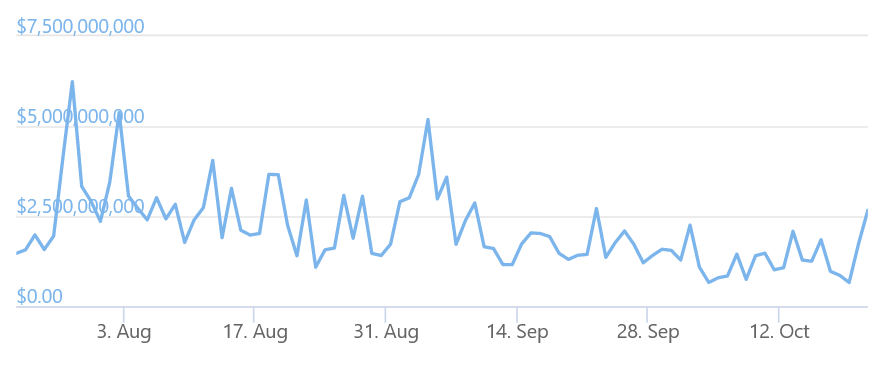 On Wednesday, the exchange has announced certain changes meant to accelerate the rollout of their User Verification Programme for individual customers, as well as BitMEX Corporate customers.
This program was launched at the very end of August this year. Users are asked to complete a four-step process, which includes uploading a photo ID, a proof of address, and a selfie, as well as answering multiple choice questions about source of funds and trading experience, said the exchange. The post described this process as "similar to ID checks on many other cryptocurrency exchanges," taking some five minutes to complete.
Per the accelerated timeline, in order to continue trading on the platform, users are now required to be fully verified by November 5 in order to open a new position or to increase an existing position. Otherwise, they will not be able to open new positions, while affiliate payouts for unverified accounts will be set to zero.
Starting with December 4, these users will not be able to withdraw funds from their BitMEX account anymore without completing verification. "If there are remaining open positions on unverified accounts, we will review these on 4 December 2020 and communicate directly to users holding these to facilitate an orderly closing of these positions," said the exchange.
Though the launch of a trading tournament for users who have completed verification was mentioned when the program was announced, BitMEX decided to delay it due to the accelerated timeline.
Lastly, the exchange noted that "[r]ecent events have underscored the requirement for market operators to implement robust and compliant KYC [know your customer] programmes," though not specifying which events they were referring to exactly. They did also describe the recent period as one of "accelerated change for 100x Group and the BitMEX platform."
As reported in early October, three owners of BitMEX and five related companies have been charged with operating an unregistered trading platform and violating multiple regulations.
Following the recent charges, however, founders Arthur Hayes and Samuel Reed (both among the defendants in the case) stepped back from their respective CEO and CTO roles in the 100x Group which they founded, and which is the holding group for HDR Global Trading Limited, owner and operator of BitMEX.
____
Learn more:
BitMEX Crackdown Will Fuel DeFi, Industry Insiders Hope
BitMEX Open Interest Drops, Withdrawals 'Stabilize'
This Is How BitMEX Juggled Private Keys Amid Crackdown
Hackers Donate Stolen Bitcoin Worth $20,000 to Two Non-Profit Organizations
In what seems to be a case of black hat hackers masquerading as the internet's self-professed Robin Hoods, two charitable organizations have received mysterious bitcoin donations from a cybercriminal group.
The generous gesture is worth 0.88 BTC (around $10,000), with the donating hackers wanting to "make the world a better place."
Hacking Corporations To Give Back To The Society?
As per the latest report published by BBC, this altruistic act of benevolence coming from online perpetrators has left cyber-crime experts puzzled. And why not? This Robin Hoodesque act move is a first and doesn't at all follow the MO (read modus operandi) pattern of Darkside hackers.
Two charities – The Water Project and Children International, have indeed received bitcoin donations worth $10,000 (0.88 BTC) each. The online robin hoods shared the receipts for the same on the dark web.
Children International has expressed objection towards this donation and has said that they will not accept it. Speaking to BBC, a spokesperson representing the non-profits said:
If the donation is linked to a hacker, we have no intention of keeping it.
The hackers probably knew that the charities would not approve of their 'giving back to the society' gesture. In a recent blog post, they wrote:
We think that it's fair that some of the money the companies have paid will go to charity.

No matter how bad you think our work is, we are pleased to know that we helped changed someone's life. Today we sended (sic) the first donations.
What Do The Cyber Crime Experts Think Of This Bitcoin Donation?
For experts like Brett Callow, this act of hacker benevolence didn't add up. He says that the concrete motivation for slipping a part of ransomware bounty to charities is not clear at all. The intentions of the hackers behind this act are equivocal and unusual.
What the criminals hope to achieve by making these donations is not at all clear. Perhaps it helps assuage their guilt? Or perhaps for egotistical reasons they want to be perceived as Robin Hood-like characters rather than conscienceless extortionists.

Whatever their motivations, it's certainly a very unusual step and is, as far as I know, the first time a ransomware group has donated a portion of their profits to charity.
Hackers Used The Giving Block To Donate BTC
As per the revelation, hackers leveraged the cryptocurrency donation facilitating platform, The Giving Block (TGB), to make the bitcoin donations. Because the platform allows anyone with BTC/crypto (ETH, LTC) funds to donate anonymously. Data reveals that 67 charities use the firm's service to receive bitcoin and crypto donations.
It turns out that TGB was not really aware of the source of these bitcoin funds. In an interview regarding the matter, TGB assured to return the donated BTC to their rightful owners. If they found out that hackers made those donations. They said:
We are still working to determine if these funds were actually stolen.

If it turns out these donations were made using stolen funds, we will of course begin the work of returning them to the rightful owner.
TGB added:
The fact they used crypto will make it easier, not harder, to catch them.
Anonymous Donations From Illicit Sources Point To Money Laundering: Chainalysis
Philip Gradwell, a cryptocurrency investigator working with Chainalysis, also commented on this case. He said that anonymous BTC/crypto donations are questionable, as they pave the way for rampant money laundering. Especially if bad actors make those donations.
He impressed upon the fact that law officials have developed a certain proficiency in tracking the movement of crypto funds from wallet to wallet. But it is quite difficult to figure out who actually owns the wallet. And that's why Philip feels that:
All crypto-currency businesses need a full range of Anti-Money Laundering measures including a Know Your Customer (KYC) program of basic background checks, so that they can understand who is behind the transactions their business facilitates.
As for non-profit organizations, they despised the idea of hackers making donations from ill-gotten funds. They would not be comfortable and would never 'knowingly' accept funds from spurious sources. That's what they told BBC.
SPECIAL OFFER (Sponsored)
Binance Futures 50 USDT FREE Voucher: Use this link to register & get 10% off fees and 50 USDT when trading 500 USDT (limited offer).